How to enter your photo.
Here is what you need to know:
Pictures must be at least 1MB in size, clear and sharp.  Use the template below when taking your photo.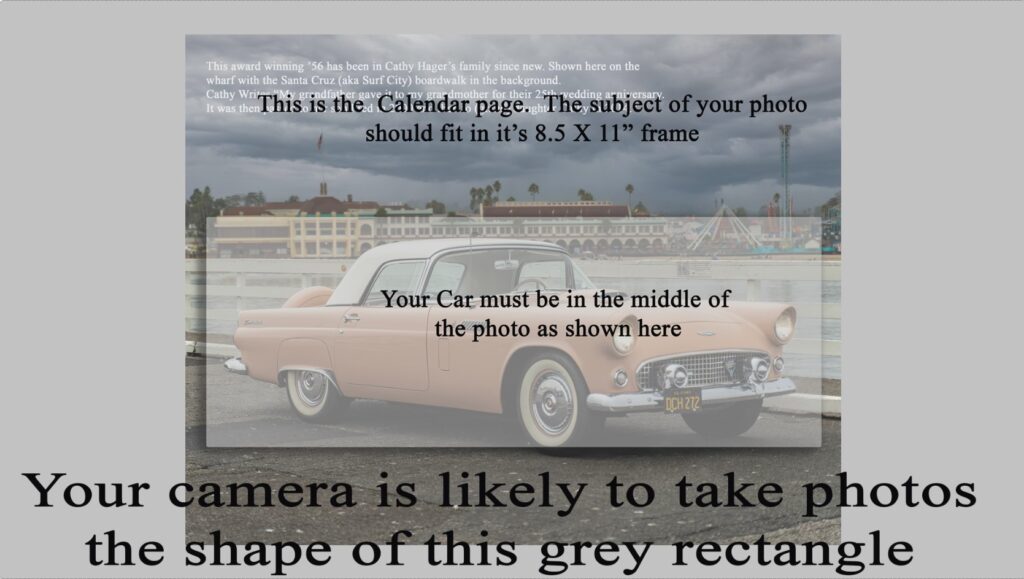 email your photo to [email protected]
BATOC WANTS YOUR CAR BATOC is producing its 20th annual Classic Thunderbird calendar and we would like to make your car a star in this year's calendar. After years of creating our club's fund raising calendar and highlighting the beautiful Northern California locations that our club has visited, we are opening up this year's calendar to all CTCI chapters and are inviting all members to submit their own car for inclusion in our 2024 calendar.
CTCI Chapters all over the world visit fabulous spots and beautiful locations that we think should be shared with everyone.  So we hope you will send us that favorite picture of your own car – whether it's in front of your state capitol, under a majestic oak tree or in a snow filled meadow – and we might make it – and you – a star.  Submit your picture in hi-resolution, landscape format along with the location and a brief description of the shot by September 1st.  We'll submit it to our calendar committee and let you know if we plan to use it.  If we do, you'll receive a free copy of the calendar and your fellow club members will receive a $5.00 discount on their own calendar purchases.  Baby Birds and Retro Birds welcome.
Email your pictures to Guy Cummins at [email protected] by September 1st and be sure to include your contact information.  For further submission details and technical information go to www.batoc.org/enterphoto and see our ad in this month's Early Bird.
Selected entries will receive a free 2024 calendar and their fellow club members can each order one for themselves at a $5 discount.