Geoff McFadden, Treasurer of the Victorian Chapter of the Thunderbird Owners' Club of Australia, has allowed us to share this story.   Geoff's car appears in our 2021 Calendar.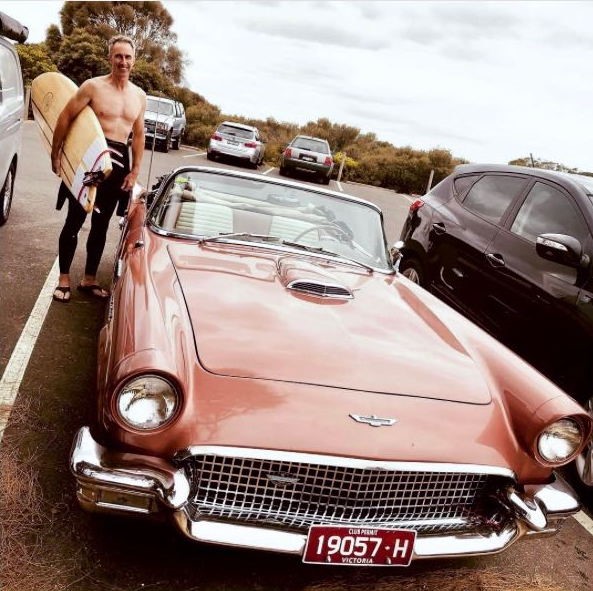 Blackboard, surfboard, thunderbird 
I saw my first Thunderbird in California in 1987.  I was touring the US giving biology lectures at Universities and doing a little surfing on the coast.  In Santa Barbara I spotted a Thunderbird Blue 1955 sporting an after market continental kit.  She was parked in a Safeway car park.  I recall reading the stylish script on the rear fender to identify what sort of car it was.   I also took a photo, which I still have.  Then and there, I decided that I had to have a Thunderbird.  While in California I also had the chance to surf at Santa Cruz among the sea otters.  Sitting out there on my board at lighthouse point I decided that a Thunderbird would complete my perfect triumvirate – surfboard, blackboard, and T-bird.   Twenty-three years later the dream was realized.
The Bird that started it all.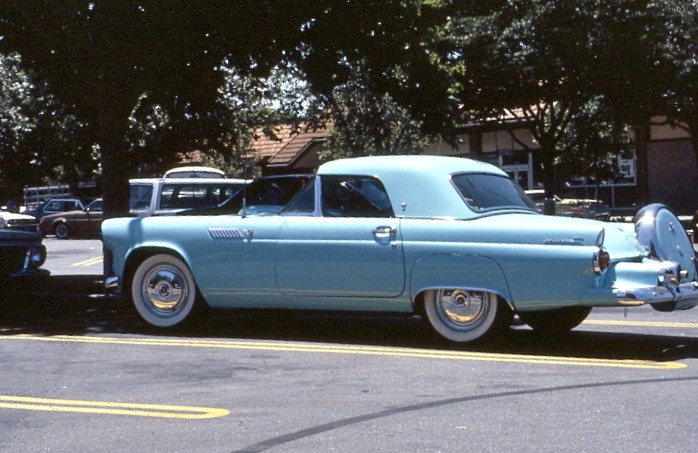 For years and years I trawled the classified ads in the Vintage & Veteran section of the papers, and the occasional thunderbird would show up and rekindle the dream.  In 1999 I spotted a black 1957 at a car dealer in Heidelberg.  It confirmed that classic birds were indeed the object of my desire but the purchase was still beyond me.  Fortune eventually came my way, and in 2009 I was looking very seriously for a car.  I decided to extend my search by contacting TOCA, and this proved to be a shrewd move.  Lucinda Vennix from the Victorian chapter put me in contact with John Watson who had a 1957 'E' code for sale.  The deal was struck, and I drove home in my new bird with a grin from ear to ear.
I've named the car Trixie.  Every vehicle should have a name; mine all do.  Trixie seemed uniquely American and of appropriate vintage.  She's thunderbird bronze, which was the first metallic colour used in T-birds (metallic grey followed soon after in the 1957 line up).  Thunderbird bronze is a hard colour to pin down.  Sometimes it's a coppery pink.  Other times it has almost an golden hue depending on the sunshine and the background.  The interior is matching bronze and the hard and soft tops are white.
The original invoice shows that Trixie was delivered to Zion Industries in Zion, Illinois, a company with a fascinating background.  Zion Industries was founded by John Alexander Dowie, a Scotsman whose family migrated to Australia when John was just 13.  John Downie became an evangelical minister in Melbourne then moved to Chicago, where he continued to preach and eventually founded a religious utopian community based in a town he called Zion, which he single handedly created on the shores of Lake Michigan.  Zion Industries was the commercial driver for the city and church.  Downie was, to put it mildly, unusual.  His Christian Catholic Church had 30,000 members and practiced faith healing and abstinence.  Nevertheless, Downie himself lived an extravagant lifestyle with a huge mansion and lavish tastes, particular in ecclesiastical robes.  He died in 1907 but I think he would have liked Thunderbirds.  Zion Industries certainly made good business selling them through the Zion Ford dealership it seems.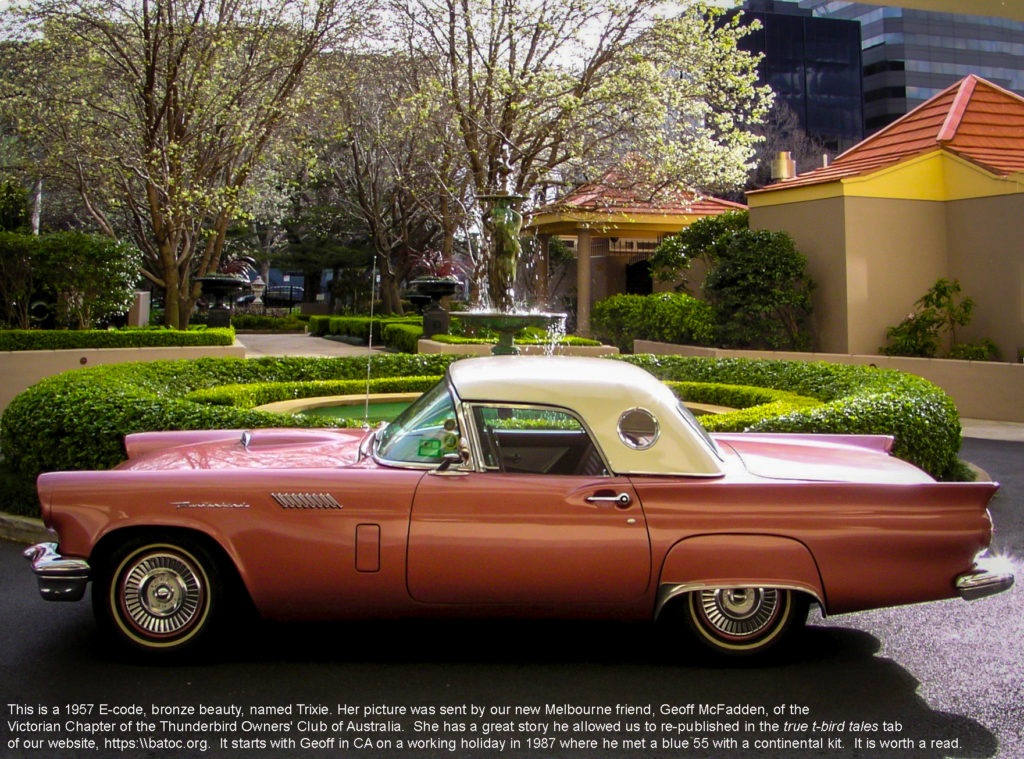 The factory invoice for Trixie shows a build date of March 12, which makes us almost the same age.  I kind of like the notion that she becomes increasingly more valuable as I become more and more decrepit.  Options and extras on the invoice include a race performance engine set up, an engine dress up kit, tan soft top, positive action wipers, windscreen washers, a tonneau cover, signal seek radio, heater/defroster, 16 pints of antifreeze, and 10 gallons of gas.  Some of the popular options like power steering, power brakes and power seat were not selected, perhaps because the purchaser wanted all the special Y-block's power going to the road.  Nevertheless, the accessories totaled $752.74, which was a sizeable up sell considering the total wholesale price for the car was $3,553.81.  To put that car price in perspective, the average wage in USA in 1957 was $5,000 – so this was an expensive car.  On the flip side, petrol was only 30c per gallon or 8c per litre in 1957 so it's little wonder that V8s ruled the roads.
Factory invoices for classic birds are available through The American Road Thunderbird Club (www.tartc.org) and are worth chasing.  It's the first item of the car's history, and you get to see exactly how it was originally specified.  For instance, I have reinstated a tonneau cover on the basis of my invoice, and I will opt for tan when I eventually have the soft top recovered. I use the invoice as a guide in making restoration choices, aiming to recreate the original car if possible.  I have no information on what happened to my car after delivery in Zion.  All I know is that 40 years later she turned up in Tennessee registered to Joann & Robert Kramer in 1998.  In 2005 Trixie was relocated to Australia.  She is in the Thunderbird Registry as entry 33964 (www.tbirdregistry.com).  If you haven't registered your bird, I encourage you to do so.
Trixie is an "E" Code, which is a rare special high performance 1957 Thunderbird. She features the Thunderbird "E" Code 312 cubic inch, 270 hp V8 engine, with two quad venturi Holley carburetors (teapots) and Fordomatic transmission.  Top speed was rated at 120mph; this must have been terrifying on radial ply tyres and the leaf spring suspension.  The teapot carbs sit backwards compared with the equivalent quad barrel Holley 4000 carbs mounted on 1956 birds.  An enormous air cleaner with two eye-popping domes just fits underneath the air scoop and brings smiles to the faces of rev heads when the bonnet is up.
By late 1956 Ford Motor Co. had decided to race the Thunderbird on the NASCAR circuit. In the late 50's Ford and Chevrolet, as well as Buick, Chrysler and Oldsmobile were locked into a horsepower race to wring more speed out of their cars for Daytona, Indianapolis and Bonneville.  Engine capacities expanded, carburetors proliferated and cams were tweaked to convince the buying public that the manufacturer had the fastest machine on the road. Ford experimented with a special high performance version of the Thunderbird 312 V8, mounted with two 4-barrel Holley carburetors. Boosting horsepower by 10% over the standard engine, this configuration was introduced in the 1957 line as the "E" Code Thunderbird. In total 1,499 "E" Birds were produced, representing less than 3% of classic Thunderbirds.  Today only 153 "E" birds are listed on the T-Bird registry, and Trixie is the only one known in Australia. NASCAR eventually ended the horsepower race out of safety concerns, but not before Ford had bolted superchargers to 1957 T-birds to create the extremely rare – and now extraordinarily expensive – "F" code birds.  No "F" code birds are known in Australia, though I have heard a rumour of one hiding out in SA.
Trixie is a driver.  I take her to work once a week and out on nice weekends.  In Melbourne the hard top comes off in October and goes back on in autumn when the chill sets in.  Despite her excellent condition, there seems to be an unending list of things to attend to with a car this age.  But that is half the fun, and I'm enjoying learning how things work – or don't!  I've benefited immensely from belonging to TOCA, and am grateful to the Victorian and NSW members for their companionship, advice and car talk over a beer or two at meetings and outings.  I have also enjoyed reading the daily tips and suggestions on the Classic Birds discussion group (http://autos.groups.yahoo.com/group/classicbirds/messages) where you can learn an enormous amount about these cars from an active collection of drivers, restorers and experts.  Even the legendary Gil Baumgartner chimes in from time-to-time to set everyone straight on an item of authenticity!
Thunderbirds are a very special piece of automotive history, and I'm fascinated at how Ford used them as a 'halo model' to enhance the desirability of their entire vehicle range.  I now feel privileged to be the current caretaker for this classic bit of motoring legend.  Trixie will probably outlive me, and I wonder if her future owners will struggle to source petrol after Peak Oil.  In the meantime, I look forward to many years of cruising with my best girl Ceridwen (and sometimes my surfboard) in Trixie the Thunderbird.